Children of Arthur
A Home for All King Arthur's Descendants in Blood & in Spirit
ChildrenofArthur.com is devoted to all aspects of the Arthurian legend, in history, fiction, and popular culture.
Tyler R. Tichelaar, Ph.D. an award-winning author, is your guide through the Arthurian maze of myth and magic. Fascinated from an early age with the Arthurian legend--its idealism, sadness, romance, and hope for the future--Tyler was inspired to write Arthur's Legacy, which resulted in extensive research into all things Arthurian and culminated in his scholarly work King Arthur's Children.

In studying the Arthurian legend, Tyler was stunned to discover many alternate versions that are today nearly forgotten and normally overlooked by popular retellings, including the possibility that King Arthur had children and that his descendants live among us to this day.
Whether one believes in the historical Arthur, or simply loves the stories told of the Once and Future King, King Arthur's story continues to inspire, and all those who believe in the ideals of Camelot can claim to be Arthur's true descendants in spirit if not blood.
As novelist Vera Chapman stated in King Arthur's Daughter:
"Names and titles shall be lost, but the story and the spirit of Arthur shall not be lost. For Arthur is a land and Arthur is the land of Britain….you shall be Arthur's Adam and Eve. So shall Arthur conquer, not by one war, nor by one kingship, that soon passes away, but by the carriers of the spirit that does not die."
Be sure to visit ChildrenofArthur.com often for new information. May your time spent here inspire you anew to tell the story and live the ideals of Camelot!
Non-Fiction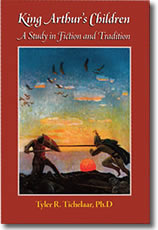 King Arthur's Children:
A Study in Fiction and Tradition
Did you know King Arthur had many other children besides Mordred? More | Buy
Fiction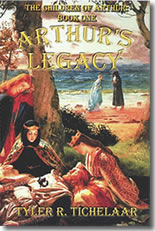 Arthur's Legacy:
The Children of Arthur, Book One
Magic existed in the thought of England's green hills, in the names of Windsor Castle, Stonehenge, and the Tower of London. More | Buy