King Arthur's Children:
A Study in Fiction and Tradition
A must have for King Arthur
fans and scholars!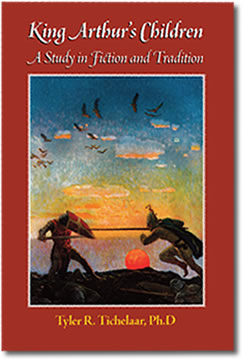 Listen to Tyler read the Introduction to
King Arthur's Children.
eBooks
Kindle Edition $9.99, Nook Book $9.99
& Kobo $9.95
Hardcover: ISBN-13: 978-1-61599-067-2
Paperback: ISBN-13: 978-1-61599-066-5
eBook: ISBN: 978-1-615990666
6"x9" / 207 pages
Did you know King Arthur had many other children besides Mordred? Depending on which version of the legend you read, he had both sons and daughters, some of whom even survived him. From the ancient tale of Gwydre, the son who was gored to death by a boar, to Scottish traditions of Mordred as a beloved king, Tyler R. Tichelaar has studied all the references to King Arthur's children to show how they shed light upon a legend that has intrigued us for fifteen centuries.
King Arthur's Children: A Study in Fiction and Tradition is the first full-length analysis of every known treatment of King Arthur's children, from Welsh legends and French romances, to Scottish genealogies and modern novels by such authors as Parke Godwin, Stephen Lawhead, Debra Kemp, and Elizabeth Wein. King Arthur's Children explores an often overlooked theme in Arthurian literature and reveals King Arthur's bloodline may still exist today.
Coming Summer 2014

Arthur's Legacy - The Children of Arthur: Book One
He felt suddenly as if a siren's song were calling to him from across the sea, from an enchanted land, an island kingdom named England. He had always pictured England as a magical fairy tale realm, ever since his childhood when he had first read the legends of King Arthur and the Knights of the Round Table.
Magic existed in the thought of England's green hills, in the names of Windsor Castle, Stonehenge, and the Tower of London. It was one of the few lands still ruled by a monarch, perhaps a land where fairy tales might still come true. Maybe even a place where he might at last find a father.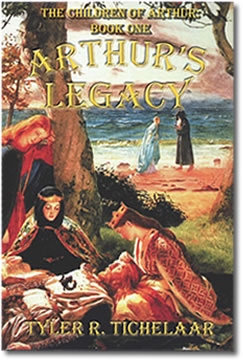 All his life, Adam Morgan has sought his true identity and the father he never knew. When multiple coincidences lead him to England, he will not only find his father, but mutual love with a woman he can never have, and a family legacy he never imagined possible. Among England's green hills and crumbling castles, Adam's intuition awakens, and when a mysterious stranger appears with a tale of Britain's past, Adam discovers forces are at work to bring about the return of a king.
"So much is asked of saviors that we can forget the beating heart behind the legends. Tyler Tichelaar understands the contradiction between our expectation of heroes and their lonely destiny. In exploring the Arthurian legend, he shows himself once more the master of the complexities of the human heart."
— Diana M. Deluca, Ph.D., author of
Extraordinary Things
Children Of Arthur Reviews and Testimonials:
Overall...an excellent book and essential reading for those who would like to study the subject more deeply.
— Dane Pestano, author of
King Arthur in Pseudo-Historical Irish Tradition
Tyler R. Tichelaar's in-depth knowledge of the King Arthur legend throughout centuries of literature validates his extensive analysis into the continuing controversy surrounding the feasibility of there being children and descendants of King Arthur. He further affirms the significance the legend holds for people today.
— Cheryl Carpinello, author of
Guinevere: On the Eve of Legend
Tichelaar has made a solid and scholarly effort to untangle the many threads in Arthur's tapestry so that readers can come to their own conclusions and perhaps create further tales that enrich the Arthurian legend.
— Madeleine Usher, The World of Myth
While this is certainly a scholarly study, the author's writing style remains accessible to any reader who is curious about the subject of Arthur's potential children.... I have thoroughly enjoyed King Arthur's Children: A Study in Fiction and Tradition, and I recommend it highly to any lover of Arthuriana.
— Olivera Baumgarten-Gardner, Reader Views